If you have any questions or concerns, please feel free to contact us.

Email us at info@yokoi-eye.com
For urgent matters,
please contact our call center 03-6458-8064

*PLEASE BRING A JAPANESE SPEAKER WITH YOU when visiting our clinics on Wednesday or Thursday.
Thank you for your co-operation and understanding.

Scinex Bldg. 3F
3-4-11, Kiyosumi, Koto-ku,Tokyo

1 minute walk from Exit A3 of Kiyosumi-Shirakawa Station on Tokyo Metro Hanzomon-Line (Z11) or Toei Oedo Subway Line (E14).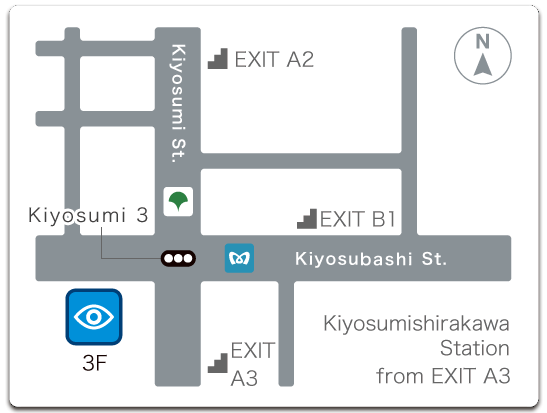 Yokoi Eye Clinic

〒135-0024
Scinex Bldg, 3F
3-4-11,Kiyosumi,Koto-ku,Tokyo.

03-6485-8064
info@yokoi-eye.com


1996 M.D. Shinshu University, School of Medicine, Nagano
2000 Ph.D. Tokyo Medical University, Graduate School of Medicine
2005-2008 Postdoctoral fellow, Wilmer Eye Institute, Johns Hospkins University, Baltimore, MD, USA

2001 Assistant professor, Tokyo Medical University
2008 Associate professor/lecturer, Tokyo Medical University
2012 Director, Yokoi Eye Clinic

2001 Board Certified Member of the Japanese Ophthalmological Society
2012 Senior Fellow of the Japanese Ophthalmological Society

 1998 M.D. Tokyo Medical University
 2011 Board Certified Member of the Japanese Ophthalmological Society